Missoula, Montana
More days than we would care to remember, but roughly July 27-August 4; August 13-16 and 27-30; and September 9-15, 2006. It was 100º on the day we first arrived and 49º on the day we finally left.

Don't let the dates fool you. We really like Missoula. It's just that we thought we would pick up the RV and LEAVE. Warranty issues and waiting (and waiting) for parts were responsible for our many visits, but we've discovered that that's par for anything major that's brand new, be it a house, a boat, or an RV.
Missoula lays on the western edge of the state, nestled in the heart of the northern Rockies, a stone's throw from Idaho. The city of 100,000 residents is called the "Garden City" because of its dense trees and lush landscape. Water is everywhere because three major rivers run through the city (Bitterroot, Blackfoot, and the Clark Fork of the Columbia.) A drive along the interstate is remarkably pleasant when accompanied by swift-moving streams just a few feet away.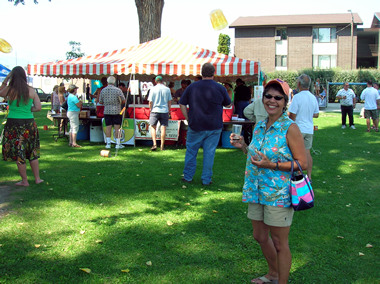 Maria at the microbrew tasting tent at Daly Daze
Here are the things we liked about Missoula:

Nice, nice people

Lots of (tax-free) shopping

Very clean

Big Sky Brewery (home of Moose Drool beer) and McKenzie River Pizza (the best we've had since NYC)

You can see forever. Now we know why they call this Big Sky Country. We wondered if there are height restrictions on buildings.

Bike paths. Wide sidewalks. Lush, thick grass everywhere.

Abundant streams. They seem to be everywhere.
Missoula is home to the University of Montana and its Grizzlies, and GO GRIZ! signs are everywhere. Most bars offer free bus rides to and from the games if you park your car in their lot. Another phenomenon is that casinos are everywhere: restaurants, gas stations, even laundromats. They are not big casinos like you see in Las Vegas, but small sort-of-ma-and-pa types with mainly slot machines and video poker. Something else that there is a lot of are coffee/espresso stands, about as many as you'd see in Seattle. We don't know what the big deal is with coffee up here in the northwest; maybe it's akin to daiquiri drive-thrus in the south.
Buffalo burgers are on many menus and they are GOOD. And nutritious, too, having half the calories and half the fat of a regular hamburger. We didn't eat too many meals out; I am so enjoying having a kitchen again! Plenty of counter space on which to work, lots of cabinets to store things in, an awesome microwave/convection oven and a gas stove…I love it.
Missoula is only 140 miles to Glacier National Park and 270 miles from Yellowstone. It is within 100 miles of seven wilderness areas, so outdoor activities such as hiking, biking, camping and rock climbing are popular. Something rather unique is also located here: the nation's largest training base for smokejumpers, those highly trained specialists who parachute into remote areas of national forests to fight the spread of wildfires. The visitors center at the Ariel Fire Depot & Smokejumper Center is well worth the trip, especially since there have been more fires in 2006 than any other year. Displays, dioramas, and videos related to fire suppression are offered, as well as guided tours of the parachute loft and training facility.
Our visit to Soap Lake, WA opened our eyes to the truly geologic wonder that exists in this part of the country. The entire Missoula valley was completely submerged by Glacial Lake Missoula, filled with water up to an elevation of 4,200 feet at its highest point! Over the course of several centuries, the ice periodically weakened and burst, causing water to race across Idaho, Oregon, and Washington as it made its way to the Pacific Ocean in a series of catastrophic floods. What we see today-bedrock, rippling plains, and scattered boulders-are reminders of that incredible event.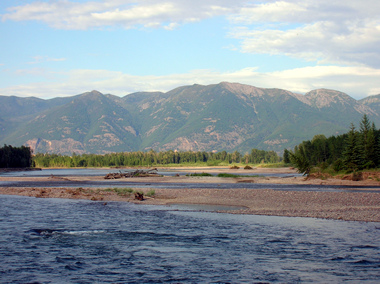 A view from the campground in Kalispell on a sidetrip
We totally enjoyed our eight-week Northwest experience and give it two thumbs up, five stars, and a 10 on a 1-10 scale. Everyone should make the trip up here at least once in his lifetime. It's that remarkable, that incredible, and that memorable.