We have discovered that buying a recreational vehicle is much like buying a boat. Dave said that he thought working with an RV dealership would be like working with an automotive service department; you tell them what you need, they order parts, if necessary, and then you schedule an appointment for the work to be done. Not so with boats and RVs. The scenario is much different and much more frustrating. You tell them what you need. They say they'll order the parts and schedule an appointment for you to bring the RV and/or boat in. You bring it in on the appointed day only to find out that "someone" dropped the ball, the parts were not ordered, and you'll have to come back another day. This is how we ended up going to Yellowstone, waiting for parts to come.
The RV park we chose to stay at was Valley View, in Island Park, Idaho (population 215), on U.S. Highway 20, only 13 miles to West Yellowstone, a town with just about anything imaginable-not to mention the widest streets I've ever seen-and 14 miles from Yellowstone's west entrance. The price was very reasonable: $11 for the first two nights (Passport America) and $17/night for the rest. That included full hook-ups (water, sewer, 50 amp), and the area's largest laundromat was on-site, a plus for gypsies like us.
Since we planned to spend at least a week, we took our time exploring both Yellowstone (the first national park) and Grand Teton, which was such a gift. How people "see" national parks in one day is beyond me. Think of what they must be missing! Yellowstone, itself is more than 2 million acres of geysers, hot springs, waterfalls, mud pots (acidic hot springs with a limited water supply,) and fumaroles (sort of a "dry geyser",) backcountry hiking trails, and all kinds of mammals: bison, deer, elk, grizzly and black bears, and, thanks to an all-out effort to reintroduce them in 1995-96, gray wolves. They had been absent for more than 50 years, but the program ensures that at least 30 breeding wolf pairs are maintained, reclassifying the gray wolf from "endangered" to "threatened."
Of course, Old Faithful, the world's most famous geyser, was #1 on our list of things to see, and it lived up to its hype. We thought it was funny that the park service can post "approximate viewing times" of Old Faithful at the visitors center, and that's because the average interval between eruptions is 92 minutes, give or take. Its statistics are impressive:

The eruptions' heights range from 106 feet to more than 180 feet, averaging 130 feet;

3,700 to 8,400 gallons of water are expelled per eruption; and

The water temperature is 204°F just prior to eruption.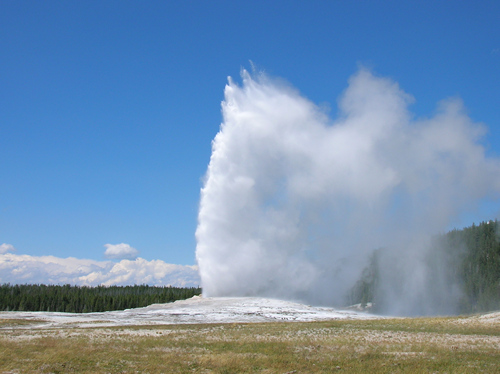 There are more than 300 geysers in Yellowstone, and the National Park Service has done a wonderful job of building boardwalks and designating trails so that visitors can get as close to the hydrothermal features while staying safe. Still, "Danger! Scalding Water" signs abound, warning people that, although indescribably beautiful, hydrothermal features can kill, since the water is often above boiling.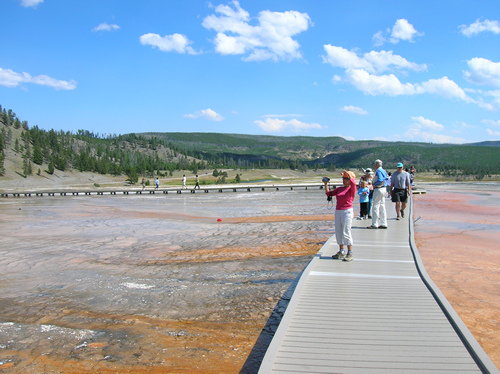 One of the most unusual and awesome experiences we had was back-ups due to wildlife jams. Seeing a herd of bison moseying down the middle of the road with no regard for the backlog of vehicles it was creating was priceless. Early one morning, as I was on my way to an 8 a.m. o'clock ranger-led hike, I was awestruck to see more than a dozen of them-adults, a few juveniles, and two youngsters, which the adults guarded intently. I juggled photographing and videotaping the herd and had to stifle a scream of surprise when one of adults walked right up to the truck and nearly poked his nose through the open window! You just don't see that every day.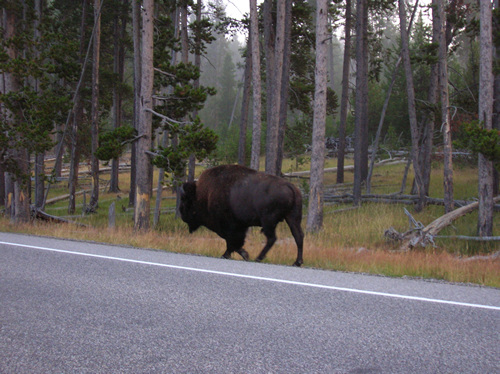 The topic of the hike I signed up for was the effect of the 1988 forest fires that engulfed Yellowstone for much of that summer. The ranger who led the hike was not just informative, but personable and animated as well, even at that hour of the morning. I learned that huge fires such as this one happen every 150-300 years, and that for the most part, natural fires-typically started by lightening-are allowed to burn out on their own. Evidence of the fires that happened nearly 20 years ago is everywhere, but the charred and fallen trees are nutrient-laden, and thus left as is for the plants and animals who have adapted to the change in environment. The beautiful all-wood lodge at Old Faithful was saved, thankfully, because of sprinklers that had been installed just one year before. Even so, firefighters had to blanket the building several times with fire-retardant foam while the worst of the fires occurred. Yellowstone encompasses so much land that it is divided into five regions, or "countries:" Mammoth, Geyer, Roosevelt, Canyon and Lake. Each one has its own fire department.
Yellowstone's south entrance leads directly to Grand Teton, making the two parks a natural combination destination. Here the majestic Teton Range rises impressively along the western edge of the scenic valley known as Jackson Hole, the area's one and only major community. Thanks to John D. Rockefeller, Jr.'s purchase of 35,000 acres of farm and ranch land between 1927 and the mid-1930s, controlled development has ensured that the captivating scenery that is Grand Teton remains for generations to come. The Scenic Loop Drive is only 43 miles, but lots of overlooks and turnouts allow visitors to stop as often as they like to take in the breathtaking scenery. Amazingly, several private residences are inside the park's boundaries. These are the homes of "inholders," permanent residents who established property rights before the national park was created. Talk about Location, Location, LOCATION!
It was during our stay in Grand Teton that we picked up "Buddy," the main character of the book I'm writing for our grandson, Bobby, entitled "Where In the World is Papa and Mimi?"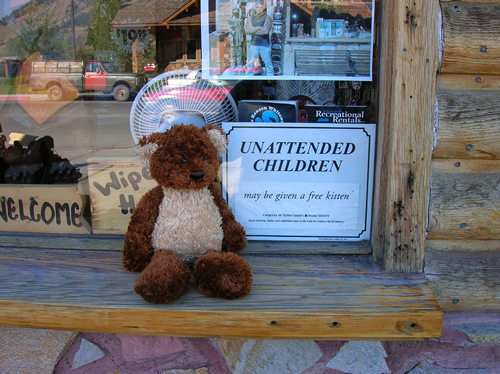 Now Buddy goes wherever we go. I just have to remember to keep him out of harm's reach, namely Victor, who just can't seem to have enough stuffed animals to play with.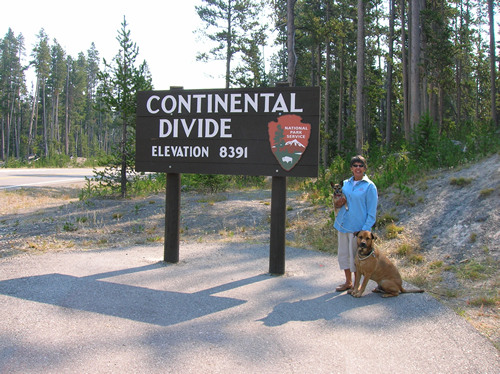 (Maria is holding Victor in her arms)