Glacier National Park
August 8-10, 2006

Shortly after taking delivery on our 5th wheel in Missoula, Montana, we headed north to Kalispell, where Dave had arranged for the installation of a Motosat HDTV dish with a Nomad 2 controller, a high-definition Tivo, a Motosat Data Storm (satellite Internet dish) with a D3 controller, and DW7000 modem. For those of us who just want to know the basics, this means that we can watch satellite TV and do Internet virtually anywhere. Most RVers carry a satellite dish on a tripod in their 'basement,' and when they settle in a campsite for the night, out comes the tripod and they do their best to get a direct view of the southern sky. That's all well and good, but technology has advanced and of course, we just had to have the latest and greatest. And it is great. With the flip of a switch, the dishes raise and automatically adjust themselves. No muss, no fuss.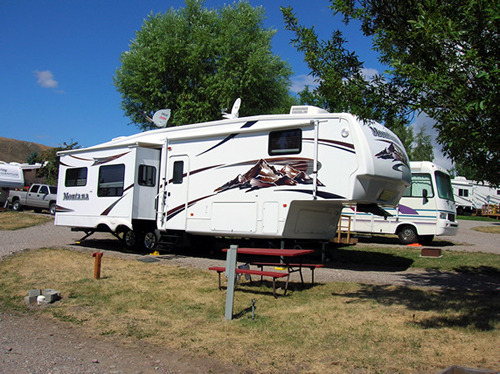 The installation was a rather involved process due to unforeseen challenges. Take for example, the TV had been bolted into the RV by the manufacturer and Tom, the installer, had to figure out how to get behind it somehow. (The answer, by the way, involved taking the facing off the fireplace and going up from underneath!) We made the best of the situation and spent three magnificent days in Glacier National Park, driving along the landmark Going-to-the-Sun Road and stopping often along the way (thanks to the many viewpoints and pullouts) to admire the result of millions of years of powerful forces-fire, water, lightning, glaciers, avalanches. It was sensory overload, to say the least. Not to mention quite challenging, as the 50-mile long Going-to-the-Sun Road is windy, narrow, and sometimes scary, especially for those of us who are leery about unexpectedly toppling off cliffs. It crosses the Continental Divide at 6,646 feet and the road is well worth traveling in both directions, as the view from one side is dramatically different than that of the other.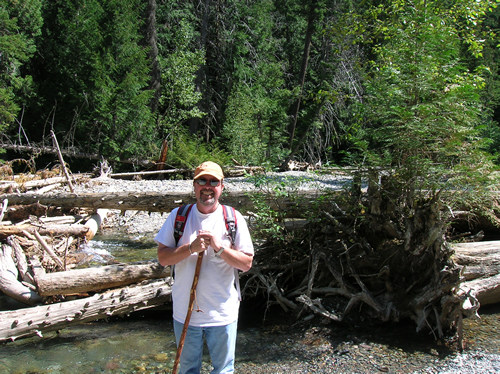 There are more than 730 miles of hiking trails at Glacier, and we hiked the Trail of the Cedars, which leads 500 feet up to Avalanche Lake, approximately two miles away. An alpine lake is a sight to behold, not to mention a very satisfying reward at the end of a hike. There, picnickers, fishermen, and photo-buffs took it all in before heading back down the trail.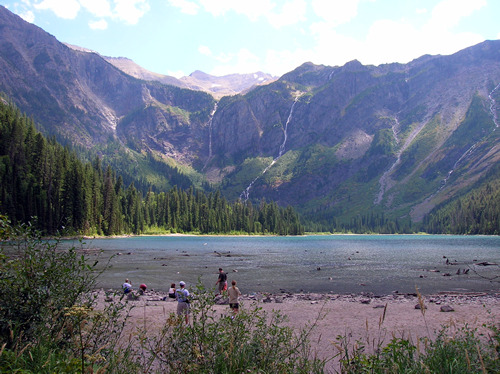 The only animals we saw were deer and mountain goats, tame in comparison to the 300 grizzlies, 500-700 black bears, 10-15 wolves and an unknown number of mountain lions that call Glacier NP home. Although the temperature was in the mid-70s, there were plenty of places of pull off the road and enjoy crisp, cool swimming holes if that was your desire.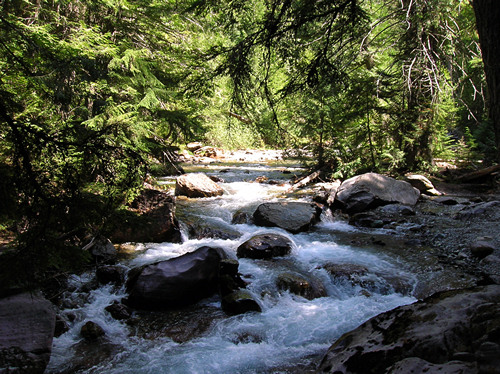 This blog would be remiss if a funny story were not included, one that could have easier appeared in Penthouse magazine's Letters to the Editor section, and of course, it would have started with, "Dear Penthouse, I never thought it would happen to me…"
We have become better about taking our video camera, as well as the digital camera, just about everywhere we go. One day, Dave was videotaping me in front of Lake McDonald, near the Apgar Visitor Center about two miles inside the park. I was going on and on about the lake, the mountains, the sheer beauty of Glacier. Unbeknownst to me, three young people were a mere 10 feet or so away, frolicking in the lake. It was only after we had returned to the truck that Dave related, in graphic detail, how one of the lasses had almost completely disrobed-save for tiny undies-before jumping in the lake. Why didn't you tell me??? I admonished, feeling as though I had missed out on something important. Now that I think about it, Dave never really gave a clear cut response, but suffice it to say we both were eager to view the video. I must admit, he did a very admirable job of staying focused on this subject; however, if one is alert, a slight quiver lasting a few seconds can be detected.