After the storm, we returned home to Bay St Louis to try to put our lives back together. We lived in a truck camper in the Champion Dodge Dealership's parking lot for 6 weeks while we cleaned up the slab where our house used to be and prepared to 'go home'.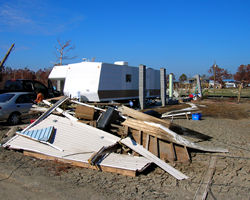 We were able to get a FEMA trailer and life began to get better.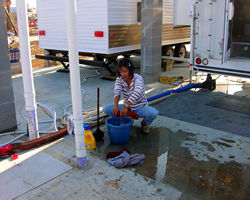 Maria did laundry in a bucket and for our 27th Anniversary, I was able to trade for a washing machine that had been under water but still worked. It lasted nearly 5 months and was a Godsend for us and the few neighbors we still had.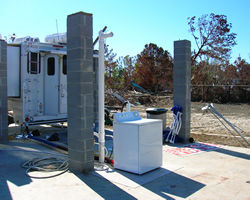 Maria is a prolific writer and kept the family informed of our 'adventure'. We both volunteered for the Hancock County Chamber of Commerce. We didn't have jobs and besides keeping our spirits up, we felt it would put us in a good position to find jobs as BSL recovered.
At the Chamber, Maria started writing for the MSNBC web site "Rising from Ruin", a well-done documentary about post-Katrina Bay St Louis.