June 8, 2007

An activity we have embraced since settling at Crab Orchard National Wildlife Refuge is hiking. If you were to look at a map of the state, there are numerous red designations for government-either state or federal-operations in this part of the state. Some represent colleges, some prisons, but the majority of them represent nature sites, such as state parks and forests, nature preserves, conservation areas, and federal recreation sites. The further south you go, the red designations become more and more numerous. This is Southern Illinois.
The name of a hiking trail often gives away what one will find along the path. For example, a massive stone wall is found on the Stone Fort Nature Trail in Giant City State Park in Makanda. It is thought that the stone fort was originally built by prehistoric Native Americans, probably around A.D. 600-800. At one time the stone wall measured 285 feet long, six feet high, and nine feet thick. Some archaeologists suggest that these stone forts were designated areas where different groups could meet, socialize, and trade on neutral ground, while others think that the stone wall was a sacred space reserved for ceremonious occasions.
Also in the same state park lies Devil's Standtable Nature Trail. Here, a unique geological formation has dominated the bluffline landscape for thousands of years. Called "the mushroom rock" by many, this large, free-standing pillar of sandstone must have seemed more like a pulpit for the devil to many locals.
You can imagine our reaction to reading about another hiking trail, called Garden of the Gods. Now, a name like that sets the benchmark quite high, don't you think? Curiosity, more than anything, led us some 35 miles southeast to the intersection of Gallatin, Hardin and Saline counties.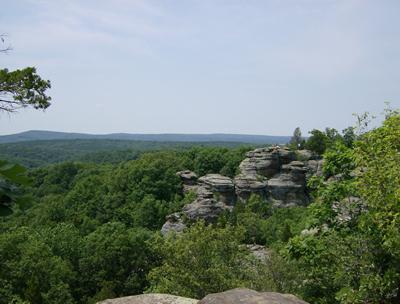 Garden of the Gods is Southern Illinois' premiere attraction, and nearly every brochure promoting the area has a picture of the site. We read the information at the trailhead and initially were disappointed that the trail was only a quarter-mile long. But why would it take an hour to walk, we wondered?
It didn't take long to find out why. Flagstone covered the trail, making the hike extremely easy. But numerous short, abrupt paths lead to enormous bluffs just begging to be climbed. The craggy, worn and mountainous landscape was striking and the overlooks reminded us of just how small we are in this massive universe.
How could landscape like this be here? Well, a few million years ago, glaciers covering most of the Midwest were headed for the southernmost reaches of Illinois. But for some reason, just before reaching Cairo, the ice stopped, retreated, and then melted. What remains is rugged terrain that is awesome and strikingly beautiful.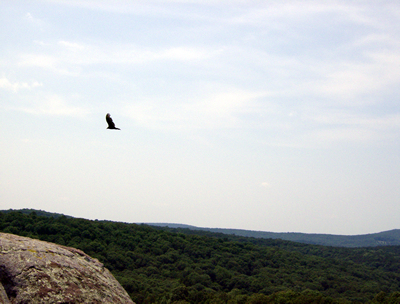 Perched atop one of the bluffs, I spotted a hawk soaring above. He seemed to be aware that I was trying to capture the moment, he seemed to be posing as he casually drifted one way and then another.
The information at the trailhead was correct. It took us every minute of one hour, and then some, to explore the Garden of the Gods. The more of Southern Illinois we discover, the more we love it. Undoubtedly, it is one of the Midwest's best kept secrets.