Tuesday, April 24, 2007
Like migratory birds, we began our northward trek in mid-March after spending the winter months traveling along the northern Gulf Coast. We would have preferred to have gone further south, perhaps to Florida or even Mexico, since winters in Texas and Louisiana can be bone-chilling. We had good times nevertheless, sometimes getting together with friends in Bay St. Louis and New Orleans, and even getting to spend some time with DJ and his girlfriend, Ariel, in Austin. Even when we're not socializing, we have a good time exploring new locations. The travel bug has bitten us hard!
We bought our 5th wheel new, but still, there were a few minor warranty issues that we needed to be corrected, so we made an appointment at Keystone (the RV manufacturer) in Goshen, Indiana for the first week of April. What were we thinking? Early April in northern Indiana is very likely to be breezy, if not downright frigid. And so it was this year. Add to that, snow on Easter, and lots of it. Luckily, we had made arrangements to stay in a condo in South Bend (home to the Fighting Irish of Notre Dame.) Kate drove up with Bobby, and we had the best time visiting museums, swimming in the indoor pool, and just plain hanging out.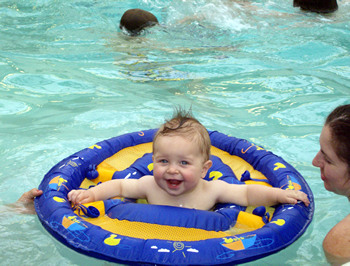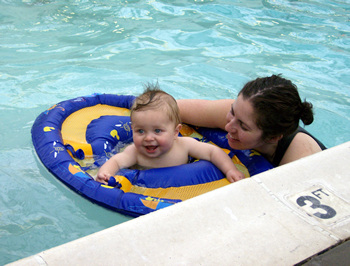 After staying in the area for another week making sure everything was in working order, we headed for southern Illinois, where we accepted a workamping position at Crab Orchard National Wildlife Refuge. This has got to be one of the best-kept secrets in the Midwest! Just two hours east of St. Louis, the refuge is a 44,000 acre wonderland of flora and fauna, with 700 species of plants, 245 species of birds, 33 mammalian species, and 44 species of reptiles and amphibians. The refuge provides a winter feeding and resting area for Canadian geese, where the flock builds up to nearly 180,000 birds by December! Three active bald eagle nests overlook the flock, and seeing a bald eagle perched in the trees is a common sight. We have bird feeders hung near the RV, and its awesome to watch nature. Cardinals, woodpeckers, hummingbirds, you name it, we're feeding it. We'll probably go through a small fortune in birdseed, but that's a small price to pay for the joy we get out of observing God's creatures up close. When I'm walking Jim and Victor around the lake, seeing and hearing all the birds reminds me of Snow White and her forest friends. It's that idyllic.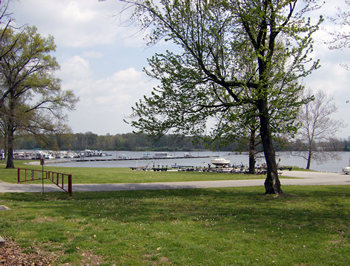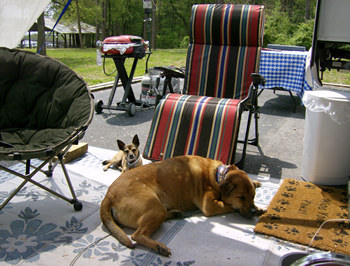 We got here just in time to witness the wildflowers at their peak. Hiking trails, auto tours, and viewing blinds have been developed to encourage and enhance wildlife viewing. Hunting (deer, turkey, goose, duck) and fishing are popular activities here, not only as recreation, but important in the management of wildlife populations. Crab Orchard Lake is known for its healthy largemouth bass, crappie, catfish, and bluegill populations. We have our fishing poles ready to go at a moment's notice!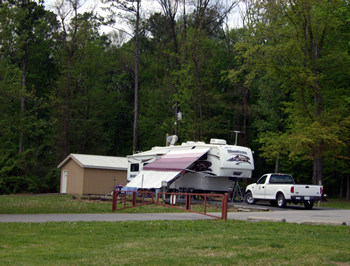 We are the Marina Hosts from now until early October. Our work week consists of Fridays, Saturdays, Sundays and holidays, 9-5. In exchange for a full hook-up site, we pump gas, pump out heads, and generally oversee the marina. Kate, Steve, and Bobby live just two hours east of here, and we're so excited to be in a position to see them often! St. Louis, where Maria's mom, brother Don and sister-in-law Terri live, is two hours west. It's good to be near family again.