Sunday, January 07, 2007
It seems like we've been on the road ever since we picked up the RV in Missoula, Montana on August 1st. In the last five months, we've been to four national parks (Glacier, Yellowstone, Grand Teton, and Hot Springs), made two trips from points west back to the midwest (Kansas/Missouri/Kentucky), gone down to check on the progress being made in coastal Mississippi's recovery from Hurricane Katrina (especially in and around our old neighborhood), piggybacked Mexico's Copper Canyon, and discovered Sedona, Arizona. We've put 22,000 miles on the Dodge Ram and 5th wheel since mid-May.
December found us traveling to see family in Austin, TX; Topeka, KS; St. Louis; and finally Kate, Steve, and 7-month old grandbaby Bobby in Kentucky. Seeing everyone made the holidays very special for us. We were blessed with fantastic weather all the way…very, very unusual for the Midwest in December. Having Christmas in the rearview mirror signaled our migration South, and we headed first for Graceland in Memphis, only to discover that it is closed on Tuesdays in December and January. Plan B was to go to Hot Springs, Arkansas, and that is where we ended up on the last week of 2006.

Bobby's first Christmas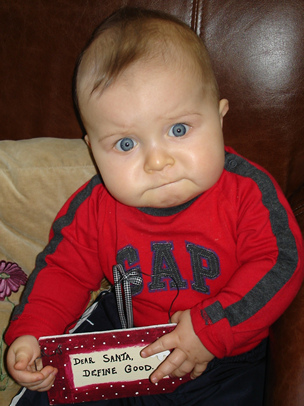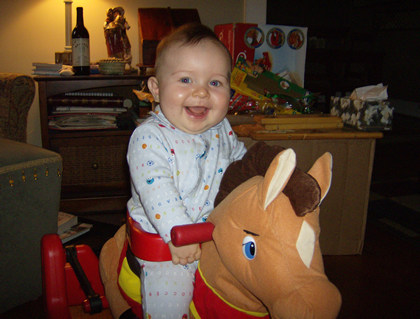 As it turned out, we fell in love with Hot Springs and are already planning our return. After all, if it was wonderful in December, imagine spring or fall! We were so taken with everything about Hot Springs: our RV park, Cloud 9; the friendliness of everyone we met; the National Park itself. We'll write and post a separate blog for this stop.
We've been in Abita Springs, Louisiana since January 1st, and we like it here very much. The location is perfect: it's about 50 miles west of Bay St. Louis and nearly the same distance from New Orleans. The town is so small (its population is less than 2,000) that one would not expect any claims to fame. Alas, Abita Springs has TWO:
Abita Springs Water Company -- The natural spring water from the artesian wells of Abita Springs has long enjoyed a good reputation in the area, and Abita Springs Water is bottled and sold throughout the southern portions of Louisiana, Mississippi, Alabama and in the Florida panhandle.

The Abita Brewing Company - In 1986, Abita Brewing Company was established as a microbrewery. By 1994, Abita Beer, brewed with the pure water of the artesian wells in Abita Springs-was sold in 30 states and the microbrewery outgrew its original location. The now-legendary Abita Pub & Grill occupies the brewery's original site, while the Abita Brewing Company is now located a couple of miles away on Louisiana Hwy. 59.

Something rather unexpected threw a monkey wrench into our plans: Dave's mom, who lives in Topeka, Kansas, had major health issues that, ultimately, resulted in him and his brother needing to make nursing home arrangements, move his mom in, etc. Dave knew he would be making multiple trips up there, and having the RV somewhere South appears to be a good home base for the winter months.

Besides the probability of it having a mild winter, staying at Abita Springs for three weeks was appealing because of its proximity to Bay St. Louis. We made several trips there. Sadly, 17 months later, the aftermath of Hurricane Katrina is still everywhere, many areas are still devastated beyond belief, rebuilding is not happening fast enough, and "less important" issues-like, what about the hundreds and thousands of dead trees that threaten to fall at any time? There is no money for projects like that. An interesting story to read on www.gulfcoastnews.com is "Where's the Money?" Most interesting and very enlightening.

We visited with friends at the Chamber last week; two whose homes survived the storm are still not repaired; one lives with her family of four (including "tween" twin girls) in a rented 2-bedroom duplex; the other lives with her family of four (including 13- and 17-year-old girls) in their FEMA trailer. Another friend whose home was completely destroyed has made little progress getting a new home built: only has the pilings for her new home have been driven. Needless to say, Vicky and her husband are still in their FEMA trailer. Another friend is back in her home, though she says that if it weren't for her brother doing the work, it would not be livable. Yet another, whose home in Long Beach only sustained some roof damage, has recently had both her homeowners insurance AND real estate taxes doubled. Barbara doesn't know if she and her family will continue to live here. And she and her husband have good jobs (he is a Navy Seabee and she works for the University of Mississippi.) Stories of despicable contractors who vanished after accepting a down payment from a storm victim abound.

While driving a friend from Missouri around Bay St. Louis last week, she asked why more FEMA trailers were not on and around the beach, where so many homes used to be. The answer: you can only get a FEMA trailer if you have electric, water, and sewer. The infrastructure of so many neighborhoods was destroyed, and the mammoth task of having it rebuilt is going to take a long, long time.

We were disheartened by the amount of Mississippi Sound muck that still remains in our neighborhood's streets (exacerbated by an above-average rainfall this winter), driving by businesses and homes that still have not been gutted, but above all, seeing the hopelessness, frustration, and desperation in the eyes of people we care very much about. I feel guilty for feeling that, the longer I'm away from Bay St. Louis, the less I want to rebuild.
More than one friend told us, "You were smart to leave." While that is probably true, the camaraderie that is generated when "misery loves company" yields deep friendships that might not have happened otherwise. To say that we feel torn is an understatement.
I've spent a lot of time thinking of a way I could spread the word of the plight still facing the Mississippi Gulf Coast. Maybe these blogs can serve as the segway! While researching the Salvation Army's official website, I found that of a group from Pennsylvania who, I can attest to, who puts their money where their mouths are. Please click on the link below and especially go down to the tail end of the page and click on the movie.
http://www.bucksmontkatrinaproject.org/
On one of our trips to Bay St. Louis, we saw the brand new daycare center on Highway 603 that this group has built, and it is truly a testament to power of an idea. God bless the Bucks-Mont community and the Salvation Army! Someone had an idea and ACTED. Thank you!
On another trip, this time with an out-of-town friend, something suddenly dawned on me! Most of you have received my letter in hard-copy version, but if you haven't, it was because I didn't have your address. Bottom line: I think I've found a CAUSE that merits your consideration. I truly believe in the power of networking, and I JUST KNOW that most, if not all, of you can help. Please take a minute and go to: An Appeal

Besides finding a good haircutter, a challenge to full-time RVers is figuring out the puzzle known as health care. Right now, our primary doctor is in Diamondhead, Mississippi (north of Bay St. Louis), our dermatologist is in Biloxi, and our dentist and optician is in Hopkinsville, Kentucky. We also had good luck in locating an emergency dentist in Rexburg, Idaho and a dermatologist in Las Cruces, New Mexico. Any suggestions re: health care and traveling are welcomed! Please e-mail us.
Even though we bought our 5th wheel with the Arctic Package (meaning, it's supposed to handle cold weather better), we will be spending the next three months down South, most likely between here and Austin, Texas. From April through September, we will be workamping at the marina at Crab Orchard National Wildlife Refuge in southern Illinois. The location could not be more perfect: we will be only two hours away from Kate's family (read: Bobby) and only two hours away from our St. Louis family and friends, (read: St. Louis Cardinal baseball games)
Judging from its website, Crab Orchard looks ideal from the perspective of birding, hiking, and its proximity to boating and fishing, ALL on our lists of Things We Want to Do. In exchange for 20 hours/week in their marina pumping gas and pumping holding tanks (we certainly done THAT once or twice!) we are receiving a full hook-up camping site, phone, service vehicle, and monthly subsistence. With any luck, we can talk Maria's brother, Don, into leaving his Whaler there for the summer : Working part-time will enable Dave will continue on as the webmaster for the Hancock County Chamber of Commerce and Maria will be able to put time into writing. And, of course, babysitting whenever asked!