September 24 - October 13, 2006
Western Kentucky
Our three-week stay in Kentucky flew by. We took care of some business (dentist appointments, haircuts, oil change for the truck…) but mostly just had fun with little Bobby. He was four months old on October 4 and already he's 21 pounds. He's such a love. We were tickled when we realized he was actually recognizing us! One day we even brought him home with us to spend the night with us. He likes camping with Papa and Mimi!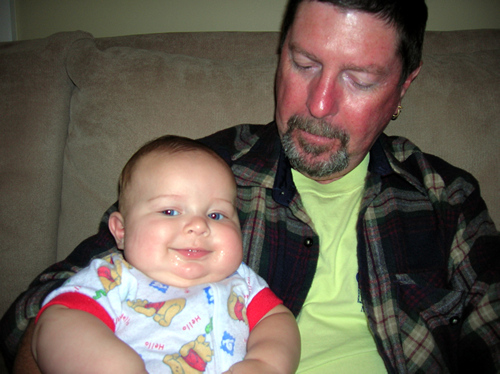 October 14, 2006. Cadiz, KY - Meridian, MS
Getting out of the tight space we had been moved to in Kampground turned out not to be the ordeal we thought it might be. Since today (Saturday) was supposed to be the biggest day of the 3-day Ham Fest weekend (the town's biggest festival) we determined that an 8am departure time would be best, and we were on our way by then. Good thing, because as we drove through Cadiz, people were already arriving and vendors were busy.
The drive south to Mississippi was one that we've taken many times, and unlike many of our travels, we pretty much knew what to expect in terms of navigations, road conditions, distance between rest areas, and favorite food stops. Our goal for today was to cover as many miles as possible. Our friends, Mike and Diana Hansen-whom we've known for nearly 20 years and who had their vacation home in Bay St. Louis-surprised us by announcing they were throwing a party for us when we got into town Sunday. If we could cover most of the 600+ miles Saturday, all the better.
The trip was rather uneventful, and that means a "good" thing. The weather was delightful, a little on the cool side, but that's to be expected this time of year. Going through Tuscaloosa was somewhat bogged down by throngs of U. of Alabama Tide football fans. We rolled into the campground in Meridian about 5pm. We had covered more miles today in the rig than we ever have in a single day, and we were beat!
The campground, Benchmark Coach and RV Park, was small (27 sites) and under new management. Turns out the new owners had also lost their home in New Orleans to Hurricane Katrina, and the experience convinced them to move further in-land. They, too, had lived for a few months in a Fema trailer, but like us, opted to get an RV rather than rebuild. As most hurricane survivors must do, they needed to re-invent themselves.
They had the opportunity to buy this small, well-kept campground, as well as the small brick house on the property next door, so now they call Meridian "home." This was the third couple we've met since leaving Bay St. Louis that were displaced by hurricanes. The others were in Polson, Montana (moved here as a result of Hurricane Charlie in southwest Florida; now they work at the KOA) and another couple from New Orleans who relocated to Hopkinsville, Kentucky (they opened a diner specializing in Po' Boys.)
Today's stats:
Miles driven today: 438
Expenses: Fuel - $105. Food: $9.45. Campsite: $28.90. Total: $143.35

October 15, 2006. Meridian, MS - Bay St. Louis.
Driving on most Sunday mornings is a cakewalk, and so it was today. We took our time heading down I-59, stopping in Hattiesburg to walk the dogs and get a Subway sandwich. We arrived at Hollywood Casino's RV Park (formerly Casino Magic) around 1:30pm.
As I mentioned earlier, Mike and Diana are old friends. In 1986, Diana was Kate's Daisy Scout (kindergartners) leader in Gulf Breeze (FL) and when Mike and Diana moved to St. Augustine, my friend, Patti Hutto, and I took over the Girl Scout troop. Diana's a flight attendant with American Airlines, and that enabled her to visit most places we lived while on the boat, which was nice. And so, we've kept up with each other all these years.
Right after we bought the house in Bay St. Louis, we returned to south Florida for a visit. I showed Diana pictures of our house over lunch one day, and she responded, "Mike would love this!" And that is how Mike and Diana came to Bay St. Louis. Their house was on the same canal as ours, and like ours, was washed away by Hurricane Katrina. Unlike us, however, they managed to hire the contractor who originally built their house. In a span of just a couple of months, he rebuilt four houses on Luzon Street. It's the most populated street in our neighborhood.
In the months I've been away from Bay St. Louis, I've kept up on local happenings via www.gulfcoastnews.com and Hancock County Chamber's www.hancockchamber.org. I am ashamed to admit that, if it weren't for doctors' appointments made months earlier, I might have chosen to not come back just now. I don't know exactly why; maybe it's because we've been so "spoiled" these past couple of months, being enveloped in the natural beauty-national parks, lush trees whose leaves were turning, and enjoying simple things like walking the dogs without having to worry about slogging through thick mud. It rained every day we were in Bay St. Louis, and the mud/muck in our neighborhood is as bad as ever. I'm glad we stayed at the RV park at Hollywood Casino.
What made our brief stay in Bay St. Louis wonderful were our friends. In the short time we lived here, we made so many, and the reunions were so happy, so genuine. We love the people here. That, and the food. Oh my, how we gorged ourselves on shrimp and crawfish in the short time we were here! Good friends and good food; that's our description of BSL.
What saddened me the most about returning here was that not a whole lot has changed in the past 14 months. While it's true that most of the debris is gone, not much has been rebuilt. An office building that was started before Hurricane Katrina still isn't completed. "For Sale" signs are everywhere. One friend whose house was flooded has had to stop remodeling because she has not received the once-promised-by-the-governor grant check that was supposed to be given to people whose homes that were not in the flood zone flooded. Another friend thought she had a contractor who told her back in April that he'd have her house built by September. After one delay after another, he finally told her last week that he couldn't build her house and was going to give her $17,000 deposit back. The rebuilding will be going on for many years.
Today's stats:
Miles driven today: 168
Expenses while in Bay St. Louis: Campsite: $84.00 (3 nights.) Food: $45.00. Total: $129.00

October 18, 2006. Bay St. Louis, MS - Wallisville, TX
Even though our route was a straight shot westward on I-10, it was by no means uneventful. This is the fourth straight day of rain, oftentimes coming down in buckets. In retrospect, we should have opted to take an alternate way, since the highway west of Baton Rouge all the way to the Louisiana/Texas border is some of the roughest we've experienced anywhere. Only the Pennsylvania Turnpike ranks higher on our Worst Roads List.
At first we pegged Lake Charles, Louisiana as a potential stopping point, but that idea was ruled out when we saw the flooding there. We just kept driving, and eventually stopped at Turtle Bayou RV Park, about halfway between Port Arthur and Houston. It wasn't fancy at all, but after a day of heavy rain and rough roads, it sure was a welcome stop.
Today's stats:
Miles driven today: 275 (Not much, considering we were driving from 8am-5pm)
Expenses: Fuel - $56. Food: $10. Campsite: $17.00. Total: $83.00

October 19, 2006. Wallisville, TX - Austin, TX
The nice folks at Turtle Bayou suggested that we circumvent Houston and take Highway 290 to Austin. Having driven through Houston on numerous occasions, we are convinced that the traffic is heavy ANY time of the day or night. Highway 290 is a very nice, 4-lane highway and the sightseeing was way better than what one sees along the interstates. The highlight of the trip was having lunch at Whataburger, Dave's favorite burger joint.
We lucked out by getting the last RV site at Oak Forest RV Park, a really, really nice facility just seven miles from where our son, DJ, lives. I know that everyone has different criteria by which they judge facilities, and mine include lots of grassy areas to walk the dogs and nice laundry facilities. Oak Forest had this, and much more. Our stay in Austin was short and the visit with DJ was great. He and his girlfriend, Ariel, just moved there from North Palm Beach, FL and they LOVE it. Both of them work at Whole Foods, which has got to be the most exciting grocery shopping experience one can ever have. I'm convinced that one can spend the whole day there and not see everything. For this reason, Dave's very glad we don't live there.
Miles driven today: 202
Expenses while in Austin: Fuel - $76.45. Campsite: $40.00 (2 nights)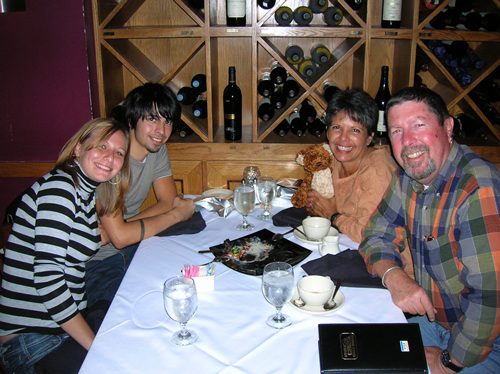 October 21, 2006. Austin to Fort Stockton, TX.
Today's our 28th wedding anniversary and we're on our way to Las Cruces, New Mexico, where we'll meet up with our group who is going on the Mexico Copper Canyon trip. Normally, we are not long-range planners; we are better at playing-it-by-ear. But last year, while we were still doing the Unsinkable Legend Tour for Boston Whaler, we attended a Fantasy Tours presentation and ended up signing up for their 16-day Copper Canyon Piggyback Train tour. Sometimes it's still so hard to believe all that has changed for us in the 16 months that have passed since we signed up for the trip:
" Completed our third, and last, Unsinkable Legend Tour, undoubtedly the best job we've ever had. For the better part of three years, we traveled all over the country at someone else's expense, promoting a product we truly loved and believed in.
" Said good-bye to our daughter and son-in-law who were deployed to Iraq (101st Airborne.)
" Lost our home and just about everything we owned to Hurricane Katrina. Good thing we had the truck camper! We lived in that for two more months, after living in it for seven with the Whaler tour.
" Found out that Kate was pregnant. We were going to be Grandparents!
" Became very involved with early recovery efforts, first volunteering and then working for the Hancock County Chamber of Commerce.
" Kate came home from Iraq.
" Lived in a FEMA trailer for eight months. Ugh.
" Had plans drawn up for a new house, only to fire our contractor because he never showed up.
" Decided to become full-time RVers for a while.
There's not much that was memorable about today's drive, although we did go through Fredricksburg, TX. It seemed quaint, yet trendy, and we'd like to go back there someday and explore.
Miles driven today: 338
Expenses: Fuel - $63.22. Campsite: $9.00

October 22, 2006. Fort Stockton, TX to Las Cruces, NM
Today marks the final leg of this particular trip. The drive through west Texas seems to take forever, but at least the road is good and that makes all the difference in the world. There was a lot of road construction happening in El Paso, so that particular stretch was slow going.
We pulled in to the Hacienda RV & Rally Resort, a really, really nice facility. This is the first RV resort we've been to that has more than its share of hotel-type amenities, like complimentary breakfast, complimentary USA Today, concierge services and private telephone service at each site. There's also a beautiful clubhouse, complete with stone fireplace, a large covered patio-with fireplace-a cardio exercise room and hydro-therapy pool. We could live here. And in fact, they have lease programs where you can stay for a few months or a few years.
At the end of each segment of our blog, I've noted our miles driven that day, and itemized expenses. I thought knowing our total expenses (excluding food) from the day we left Missoula, Montana (September 15th) until now might be interesting. For the past 43 days:
Total miles driven: 3,803
What we spent on fuel: $879.55
Cost of camping: $830.22
Miles driven today: 289
Expenses: Fuel - $66.44. Food - $22.00. Campsite: $160.86 (6 nights)