The Trip South
Day 1: Missoula to Reed Point, MT (Friday, Sept. 15, 2006)
The temperature when we woke up was 49º and because we had dry-camped (no utilities) the inside temperature was not that much different. Victor, our rat terrier puppy, is normally ecstatic about morning walks, but as soon as we stepped outside into the cold, misty air, he wanted to hightail it back into the RV. Nope, we've learned our lesson with Victor; he absolutely needs to take his morning constitutional as soon as possible.
Our goal of a 9 a.m. departure time was met with a few minutes to spare. We are learning a lot about towing our 38-foot RV. Its weight, coupled with driving through mountains, really limits the number of miles we go in a day. Dave insisted on driving through the Continental Divide and I didn't argue. We really had no set destination in mind; we play it best by ear and figured we'd see where we were at 3 p.m. and take it from there.
One of our campground memberships is Passport America, which entitles us to one-half of the normal rate. With inclement weather threatening, we decided to stop around 3:30 p.m. in Reed Point (between Bozeman and Billings) at a small RV campground called Old West RV Park & Campground. There are only 14 RV sites; we paid $14.98 for ours, and that included all utilities (water, sewer, 50 amp.)
Turns out that Reed Point, population 96, is the Sheep Drive Capital of the U.S. Apparently the sheep drive to end all sheep drives is held the first weekend of September. Maybe someday we'll be back to see it.
It began raining steadily around 4:30 and rained all night. We considered going out to eat but neither of us wanted to walk three blocks in the rain. Hot showers and Tuna Helper and biscuits appealed much more. We watched a couple of episodes of CSI and then hit the sack. It was before 9 p.m.
Miles driven today: 295
Expenses: Fuel - $50. Lunch (Arby's): $8.98. Campsite: $14.98. Total: $74.42
Blizzard in September in Montana
Day 2: Reed Point, MT to Kaycee, WY (Saturday, September 16, 2006)
This morning's temperature was a full 10 degrees less than yesterday: 39º. Having utilities made all the difference in the world. It was nice and toasty in the RV and if not for the coffee brewing (set to automatic last night) we probably would have overslept. The chimes indicating that coffee was ready set off a chain of events: Victor began barking and Jim bounded into our room, his face seeming to say, "Is it time for a walk?" Dave offered to take them out, and who am I to look a gift horse in the mouth? They returned a short while later, Victor not caring one bit for the cold. They came into the RV, Dave chuckling. Apparently Jim had seen his first sheep who baa'd and baa'd at him. Jim looked perplexed. He didn't try to charge the sheep as he does cows. Evidently he just didn't what exactly to do. I regret that I don't have a photo to accompany this.
Watching the Weather Channel is causing us to reconsider our original plan of heading west through South Dakota (and seeing the Devil's Tower National Monument and Mount Rushmore) and then south on Highway 29. Winter weather, including high winds and precipitation (snow?) is predicted. The alternative, however (south to Denver and then east on I-70) doesn't seem all that much better. As usual, we'll play it by ear and see where we are mid-afternoon. We were on our way by 9 a.m.
By 10:30 it's 34º and snowing. At 2 p.m. we were in Wyoming and it's snowing HARD and the temperature is 32º. On the bright side, diesel is markedly cheaper. We topped off the tank when we saw a sign for $3.08/gallon.
It's just past 3 p.m. and we're already settled in for the night. We're in a town called Kaycee, about 100 miles north of Casper. After talking with a couple of people at the Wyoming Welcome Center who had current weather info, we heeded their suggestion of heading south to Colorado rather than east to South Dakota. As much as we wanted to see the sites along Highway 90, we're satisfied with the decision to opt for the alternate way. After all, if it snowed THAT much on this route, what would we have encountered had we continued heading east?
Today's stats:
Miles driven today: 275
Expenses: Fuel - $116.57. Campsite: $21.40. Total: $137.97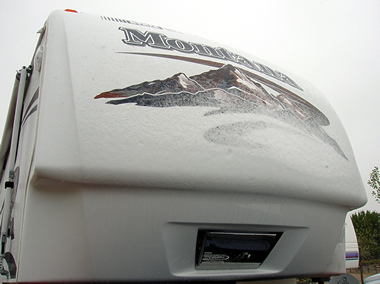 A 'driving' snowstorm