Dear Friends and Family,

Finally, we have a home! It's a 2007 Montana 5th wheel RV (model 3400RL.) The reason we chose it was because it had everything we wanted: a U-shaped kitchen with LOTS of storage space, a separate living area, complete with two recliners, queen size sleeper-sofa, ceiling fan, AND an electric fireplace, a desk big enough to hold the computer, docking station, and printer at all times (as opposed to the Fema trailer, where the only place we could have all of this was on the dining table...UNacceptable), dinette and four chairs (with storage underneath each seat), and a beautiful bedroom with a 6-drawer dresser, chest of 4 drawers, two roomy closets, a queen size bed (with hydraulic lifts revealing storage underneath), and night stands on both sides of the bed. There is SO much storage space that some of the shelves are empty! We have four slide-outs.


Here are some pics: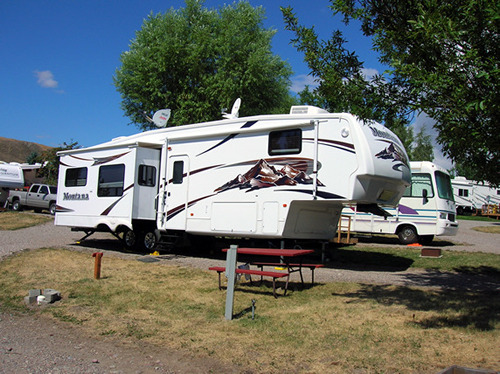 Outside right side. Our Internet and TV satellite dishes are on top. Those were installed by Tom Mattheisen of Montana Satellite & Wireless (www.montanasatellite.com, tag line "we do dishes.") We cannot say enough good things about Tom and the work he does. The install took a lot longer than he anticipated due to unforeseen complications (primarily, our TV--in the entertainment center above the fireplace--was bolted in place and Tom had to figure out how to get behind it. He ended up having to take the facing off the fireplace and go through that way!) but he persevered and the work he did was top-notch. Now we can access the Internet anywhere, as well as satellite TV. Oh, did I mention we have XM radio?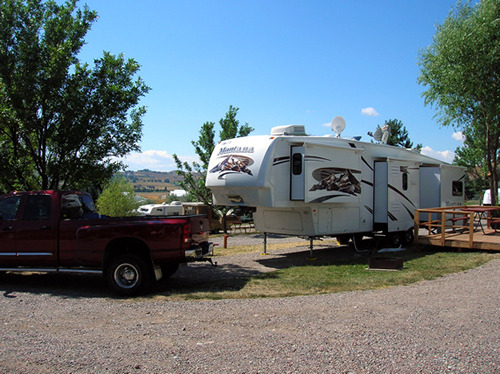 Outside left side...that's our truck in front. It's the same make/model that we had (Dodge 3500,) but this one's a long-bed. That's so that the front of the 5th wheel doesn't bust out the back window when we make U-turns.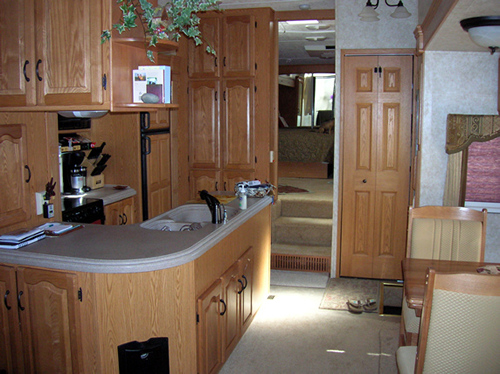 The kitchen is a dream! We've got a double-sink, 3-burner gas stove & oven, a big refrigerator that operates on either electricity or propane, and a 1/2 time convection/microwave. Everything bakes in half the time, which is really cool. Look at all that counter space!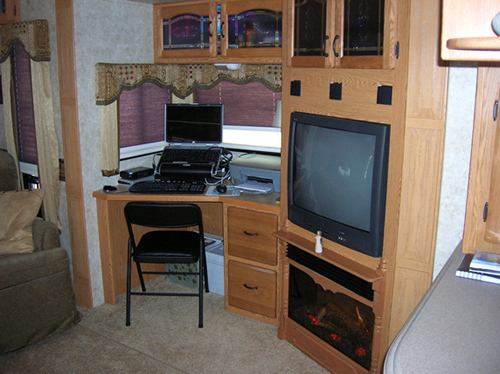 Desk and entertainment center, including fireplace.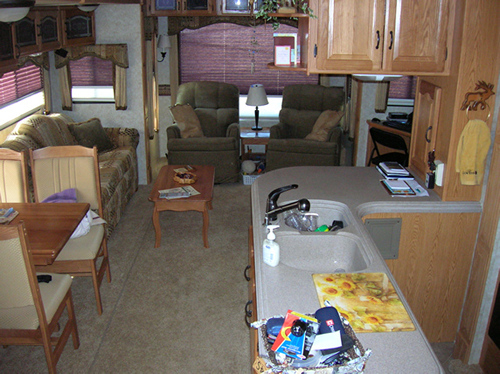 The dining room table expands, the sofa pulls out to make a queen size bed, and the leg rests on the recliners makes them SO comfortable.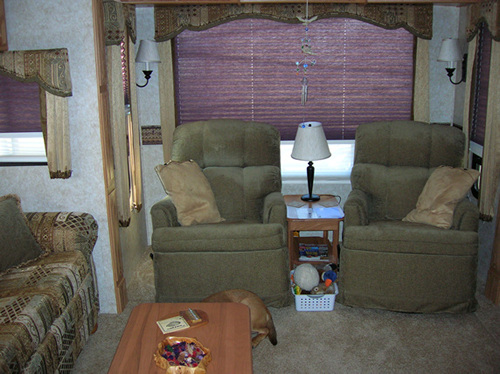 Pics wouldn't be the same without at least containing our furry children. Jim now has a playmate, Victor, a 10 pound, 10-month old rat terrier/Chihuahua mix that we rescued. They get along really well and Victor has mellowed Jim out very nicely.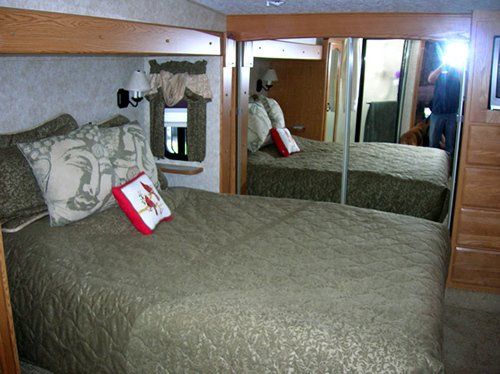 Our bedroom. Big closet and 4 drawer chest is beneath another TV (on the right, hardly visible)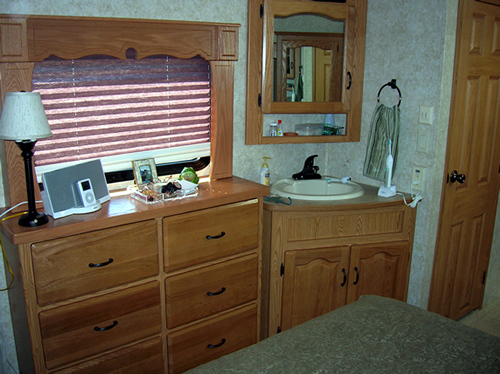 The dresser, sink, and behind that door is the toilet.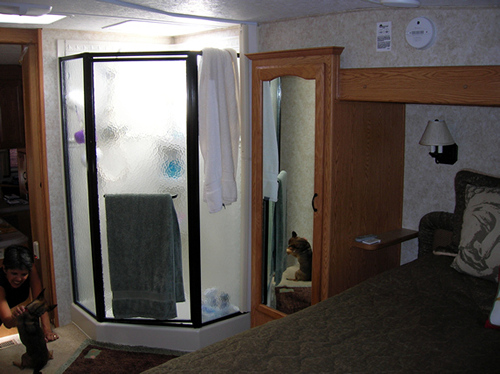 Opposite the toilet is the garden shower, Why they call it that, I do not know, but they do. Another closet is to the right of that.


Right now we are in northwestern Montana, a first for us. To say that it's gorgeous is such an understatement that doesn't even begin to come close to describing its natural beauty. We are planning to spend the rest of August and first week or so of September taking in as many national parks as possible. We went to Glacier Nat'l Park a couple of times this week and Yellowstone, Grand Teton, and Rocky Mountain National Parks are on the agenda. Now that we have reliable Internet, we are going to do a web site chronicling our adventures and including travelogues, photos, Bobby updates, and whatever else we think you might be interested in. If there is something particular you want us to include, please let us know.

Our contact information hasn't changed. It remains:

411 Walnut St., PMB (or #) 2293
Green Cove Springs, FL 32043

Cells: 228-363-2680 (Maria), 228-363-2681 (Dave)


More to come!
-Dave & Maria, Jim & Victor