Tuesday, September 04, 2007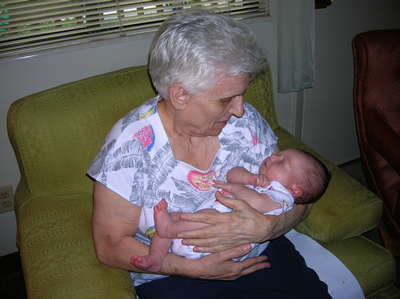 A brand new Bobby with a brand new great-grandmother! July, 2006
Today is the first day in a while that I have felt like writing for our web site. A lot has happened since the last post. I've thought long and hard about whether or not I should write this particular blog. It isn't anything like previous ones, but it does reflect Life.
One of the things that appealed about taking this workamping/volunteer position at Crab Orchard Lake was its proximity to St. Louis. It enabled me to visit my mom occasionally, take her shopping or out for lunch, and also visit with my brother and sister-in-law, which is always fun.
Driving to St. Louis on Monday, July 9th, to take mom to lunch seemed as ordinary a day as any. However, when arrived, I found her in such an incredibly weak state; it was scary. I had called her on my way up and asked her if she had called the doctor to ask for an appointment (because she had not been feeling well for quite some time) and she said she had, but she didn't. So I called his office, explained the situation, and was told to bring her in immediately. Neither she nor I expected that that would be the last time she would lock her apartment door and walk down the steps.
My mother and I had a very good relationship when I was a little girl. I have very fond memories of "outings" we did together, like long walks from our four-family flat on Virginia Avenue in South St. Louis to the shops on Meramec Street, at least six longs blocks away, uphill. I was about eight or nine years old. Or taking the bus downtown. I LOVED going through all the neighborhoods. Now THAT's people-watching at its finest.
We made small talk as we drove to Dr. Shetty's. I spotted a parking space not far from the front door of the medical center and headed right for it, not thinking for a moment that perhaps Mom was too weak to walk from there. After I helped her out of the car, she was disoriented, and when I took her arm, she went one way and I the other. I practically pulled her over (and I wasn't trying.) She was weaker than I thought. I located a wheelchair right away and she didn't object.
Thankfully the wait to see the doctor was short. It appeared hard for Dr. Shetty to hide his apparent surprise reaction to my mom's current state. After all, he had just seen her three months before and all was well. After quickly assessing some major indicators, he directed me to take her to St. Mary's Hospital immediately.
Donnie and I would RACE home from school at noon every day to see who would talk to Mom first. I was five and in kindergarten and he was 10 and in the fifth grade. Mom worked at a dry cleaners, and called us every day precisely at 12:15. I couldn't wait to hear her voice. She always asked the same questions. How was school? What was I going to have for lunch? Then I passed the phone to Donnie. The entire conversation probably didn't last for more than a couple of minutes, but it was one of the highlights of my day.

As we drove to St. Mary's, I called Donnie. I've always called him that, and still do, even though he's "Don" to everyone else. Thankfully, he answered his cell phone. I explained the situation. He said he'd meet me at the hospital. We've never have had long telephone discussions. He is a man of few words. He wants the basic information, that's it.
Mom and I didn't talk much on the trip to the hospital. Which was ok since I needed all the concentration I could muster to figure out the quickest way to St. Mary's. It's hard to remember shortcuts when you haven't lived someplace for almost 30 years, especially when it's a big city. Once my internal-sonar locked into the destination, I drove up to the door, turned the parking-lights on, went inside to get a wheelchair, and then mom.
Thankfully, it helps to know someone who works at the same place, so I threw Terri's (my sister-in-law) name around. I think it got us faster service all the way around. Soon, Mom was settled in her room.
A series of tests were scheduled for next few days. And then a biopsy was scheduled for something that was discovered in the CAT scan.
She was discharged from the hospital on Friday and admitted to St. Alexian's Nursing Home, thankfully, just three blocks away from Don and Terri, and only a few miles away from mom's apartment (where I was staying all the while.) What a blessing! Of course, none of us would complain about driving to the ends of the earth for someone we love, but day after day after day can wear you down.
On Monday, three days later, she was back in the hospital. This time for "internal bleeding," and a blood transfusion was recommended by the Emergency Room doctor. Since Mom wished for no life-sustaining measures, she declined the transfusion and was ultimately admitted into a regular room. The doctor guessed that, if nothing changed, she could die within 24 hours. We called all the grandkids and I called Dave (who was driving to Camp Russell in southern Arkansas with a cargo trailer-full of his mother's furniture…but that's another story.)
Within 36 hours, the grandkids-Dan, Elaine, DJ, Kate and Bobby-assembled St. Louis from NYC, Miami, Austin and Hopkinsville, KY, respectively. Over the next five days, each of them-four, 20-something adults, living their own lives, visited Grandma/Gram daily, and had bedside conversations. When the time neared for each of them to leave St. Louis, they ultimately had their "last" conversation with her. Unbeknownst to me, Kate told Dave that she asked Gram to give her sign after she died to let Kate know that she was fine and Gram said she would.
"I told Gram that I would keep her number on speed-dial," Kate said, and I chuckled, knowing that my technology-phobic mother had no clue as to what 'speed-dial' was. It was hard enough to convince her to get an electric garage door years ago. We gave her multiple telephone/answering machines, which she hated and never used. And cable??? "TV is TV," she'd say, and with that, we knew the conversation ended.
Mom did not die within the next 24 hours. Her internal bleeding miraculously stopped, but it was apparent that she had taken a turn for the worst. The next day, Dr. Shetty came and delivered the news: the biopsy results revealed Stage 4 B-cell lymphoma in mom's lungs, abdomen, and lymph nodes. The prognosis stunned me. He said she wouldn't last one month.
He was absolutely right. She died on August 2nd, 24 days after the office visit that turned everyone's world upside down.
On the Sunday following the funeral, Kate nostalgically considered pressing Gram's speed dial number, if only to hear that the number had been disconnected. Imagine her surprise when the speed dial ceased to exist! It simply wasn't there. Initially Kate thought that perhaps Bobby had accidentally erased it, but subsequent investigation revealed that there was NO WAY that a 15-month-old could perform each action in correct sequence to erase a number.
This was the sign Kate had asked for! I got goose-bumps and cried when Dave told me the story, but I also felt very relieved and comforted. Closure is a wonderful thing.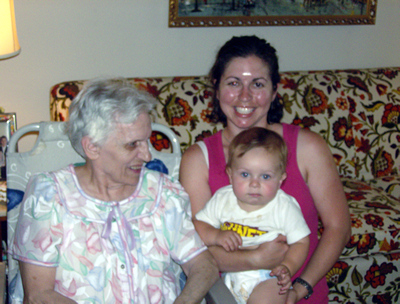 Kate, Bobby & Dave paid Mom a suprise visit, just a couple of weeks before she got sick.

I am just now seeing and feeling the results of my crazy summer. A couple of days ago, I cleaned the RV from stem to stern, something I hadn't done since before the 4th of July! No time! Besides, I wasn't here for most of it. But when I began using the Dustbuster to suck up cobwebs that dangled here and there, I knew it couldn't wait any longer.
I promise with all my heart that the next blog I write will be a lot more upbeat. At least, I HOPE it will be!
Love,
-mbr