Can someone please explain to me how a trip that was booked more than a year ago can still manage to sneak up on you? Because that's exactly what happened; or so it seemed. One day we were slowly making our way from the northwest to the southeast, stopping here and there to visit with relatives and friends. And then, all of a sudden, the realization that, oh no! We leave for Mexico in two weeks! Do we have our passports? Did our Mexico insurance come through? We still need to provision!
We arrived at the Hacienda Park in Las Cruces, New Mexico several days before our departure date to take care of last-minute details, including a visit to a dermatologist (Dave), a trip to the vet to update shots (Jim), and multiple trips to Wal-Mart to pick up supplies. We managed to see a good deal of Las Cruces, like its Farmers Market (really good) and one of its best restaurants, La Posta (also really, really good.)
The 20 other rigs going on the trip arrived intermittently throughout the week and our wagon-masters and tail-gunners arranged several opportunities for all of us to get together and become acquainted. There was even a "doggie social," and that was where Jim and Victor met their canine companions. As Saturday approached, we were getting more and more anxious!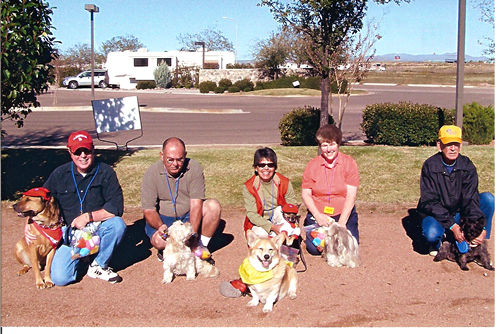 We left the RV park at 6am on the first full day of the excursion, bound for Santa Teresa, a new border crossing just the other side of El Paso, Texas. You would think that most of the conversation would be centered on our upcoming adventure, but it wasn't. You see, everyone knew we were St. Louis Cardinal fans (probably because of the Cardinal magnet on the truck, the dogs' Cardinal gear, and our own Cardinal jackets and hats) and they were congratulating us on the Cards winning the World Series over Detroit. I suppose in a group such as this, everyone is bound to be known for one thing or another. We couldn't be more proud than to known as Cardinal fans.
Thanks to the organization of our wagon masters, our paperwork was in order and the border crossing procedure went without a hitch. What took the most time was waiting for the bank representative to arrive at the staging area to exchange our dollars for pesos. Once that was taken care of, we were on our way to Chihuahua, the largest of Mexico's 32 states. The city of Chihuahua is also the capital of the state. The drive along the four-lane divided highway was easy. We experienced our first Mexican toll booth, paying $131 (pesos), translating into $13.10 U.S. That was less than half of what our motorhome companions paid.
Chihuahua is a young, modern and quite affluent Mexican city. Primary products include apples, pecans, and livestock, as well as large cement production plants. There are many "maquiladoras," foreign-owned manufacturing plants, which enjoy special tax and other economic incentives to provide employment to local residents. The 1999 unemployment rate in this city was an astonishing minus 2%. There are more jobs than workers. Our city tour took us to the home of Pancho Villa (vigilante, bandit, ladies' man, media star, and one of the best-known generals of the Mexican Revolution), the Government Palace, and the baroque Metropolitan Cathedral. While these were all very impressive, one of the things we'll remember about Chihuahua are all the giant dogs that line the streets of downtown, each one painted in a most unique way.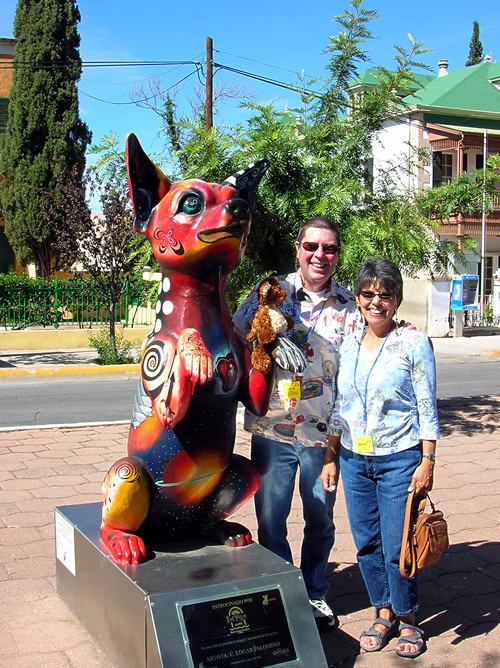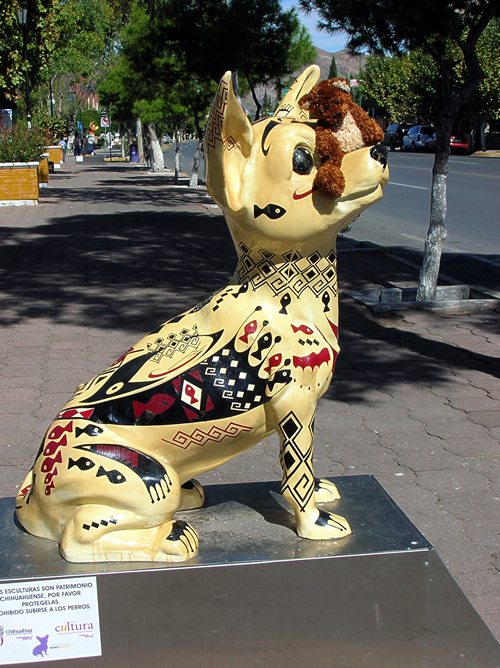 From Chihuahua we drove to Cuauhtemoc, only 67 miles away and 6,800 feet above sea level. Our hosts were members of one of the local Mennonite Community families. In the community room we found an array of locally made cinnamon rolls, bread, tamales, sausage, cheese, and beautiful handmade quilts. I couldn't resist buying one; it compliments our décor perfectly and is one of my most treasured souvenirs of this trip.
While here, we took a bus to the Mennonite Museum where we watched an informative movie relating the story of the Mennonite migration from Canada to Mexico in the 1920's. Dave and I had a special interest in learning more about these simple, peace-loving people: Mennonite Disaster Service,based in North America, provides both immediate and long-term responses to hurricanes, floods, and other disasters. Indeed, their prescence-as well as the Amish-in Bay St. Louis, MS immediately after Hurricane Katrina and still to this day, is one of the main reasons for any forward steps in rebuilding. Some 20,000 Mennonites came to this area in 1922 at the invitation of President Alvaro Obregon. He gave them the right to live freely in return for farming the land. They live as a separate entity from the Mexican government rule: they have their own schools and law enforcement. They are also allowed special dispensation from taxes and military service.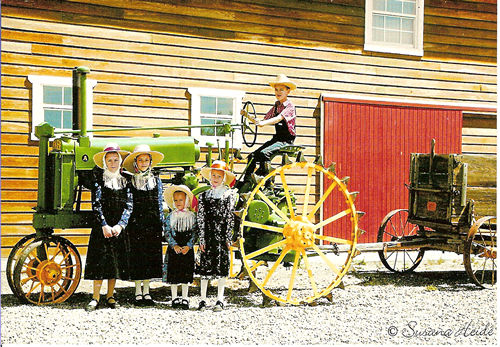 We left the RV park early the next morning, bound for the train depot at La Junta, where we would board the flatcars for our journey through Copper Canyon. The excitement of finally beginning our adventure even overshadowed the high level of anxiety felt by each rig's driver as they slowly made their way onto the railway. The entire process of loading all 21 rigs (most motorhomes, with a few 5th wheels and one travel trailer) took four hours, markedly less than what was originally thought. I guess that goes to show how competent the "piggyback" railway workers are.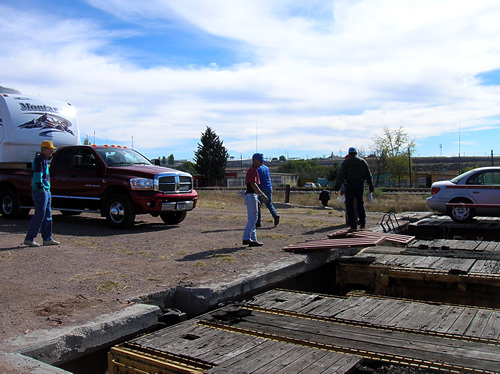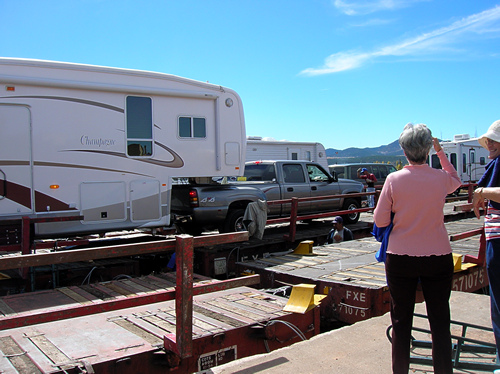 The Copper Canyon, in its most limited explanation-Barranca del Cobre-is a specific copper mine in the canyon of the same name, but generally, it refers to three different geographical areas, which cover 25,000 square miles. Our Grand Canyon is roughly one-quarter the size of Copper Canyon. It is in the middle of the legendary Sierra Madre Mountains of northwestern Mexico's state of Chihuahua.
Even though we did not expect to leave the railroad yard until 7am the next morning, the hooking-up process began at 5:40. Each of the three segments of railroad cars had to be hooked together; the engine and caboose would be added afterwards. It would have been nice to stay under the covers (the weather station registered 34 degrees), but the dogs needed to be walked. The dog ramp we purchased before the trip (www.dogramp.com) came in mighty handily. The distance from the flatcar to the ground was four feet, much too much for Jim anymore. He's got arthritis now and, although the meds have done wonders, like us, he isn't as young as he used to be.
Our first stop on the railway was the town of Creel, the center and most important town of the Sierra Tarahumara. (This is also our highest elevation: 8,071 feet.) Living alongside the Mexicans are approximately 400 Tarahumara Indians, who have survived here for centuries, maintaining their traditions. Beautiful canyons surround this area, and tall white and ponderosa pine trees abound. It is the latter that supplies the needles that make up the beautiful baskets that this area is known for. These same needles are also added to the clay that is used to build houses, making them very strong and durable.
Some Tarahumara Indians live exactly the way their ancestors did, inside caves. We visited one, and we were amazed to see that, although primitive, it had all the comforts of home: a wide living area, separate kitchen, bedroom, fireplace, and storeroom for bags of grain.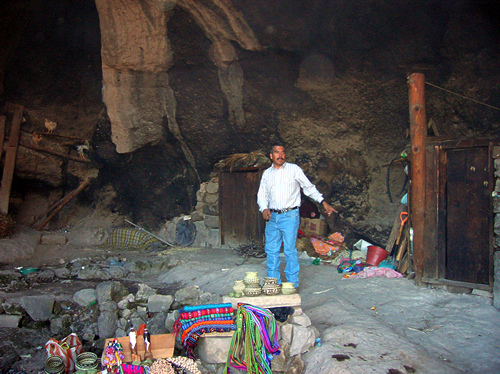 A short distance away from Creel was our next stop, the town of Divisadero, perhaps the best-known overlook of the "Three Canyons" area of the Copper Canyon. Vendors galore waited for us to disembark the train, and we ladies had a glorious time shopping! Colorful shawls, baskets of every shape and size, jewelry, copper plates, hats, masks, figurines…you name it, it was probably there. And the food! Our tail-gunner suggested that we try some of the local food, prepared atop a 50-gallon drum! Sure enough, he did not steer us wrong. We're not sure what we ate, but it was like a quesadilla, and out of this world!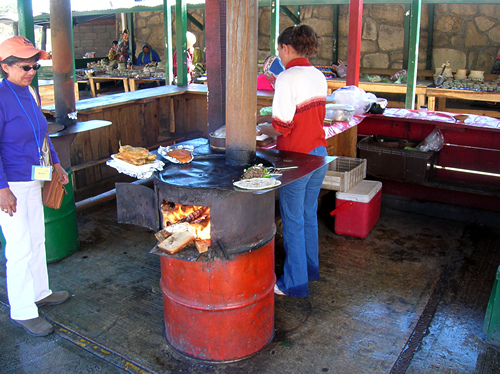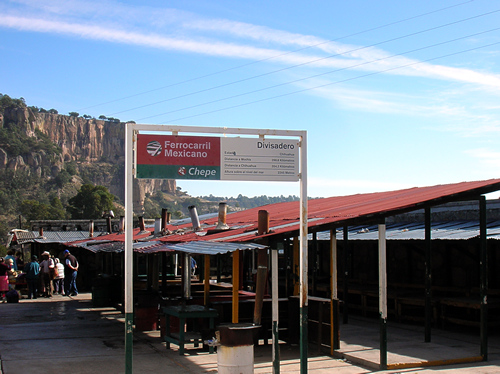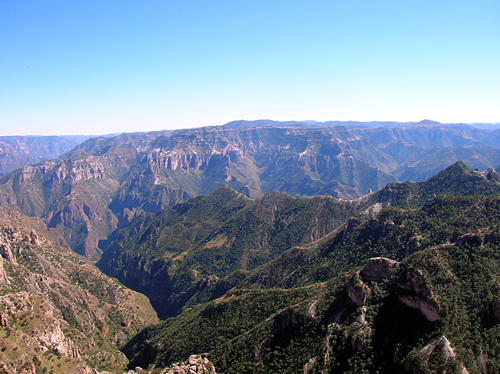 A tour bus picked us up later that afternoon and we toured one glorious overlook of Copper Canyon after another. We also hiked down some 200+ steps to another Tarahumaran cave home. In addition to adhering to traditions that have been passed from one generation to another for centuries, the Tarahumarans prize education. We visited a school and learned that when the children first come, they do not speak a word of Spanish. However, they are fast learners and pick up the language very quickly. The Indians have assimilated seamlessly into the Mexican way of life. The next day, our stop was the small town of Cerocahul, where we visited an all-girls boarding school, where the Tarahumaran children learn, in addition to reading and writing, Life skills. The nun who was showing us around explained that, even if the girls do not go on to higher education but instead go back to their community and get married (which they can do at the age of 14), what she learned at the boarding school is bound to make a significant impact on her family.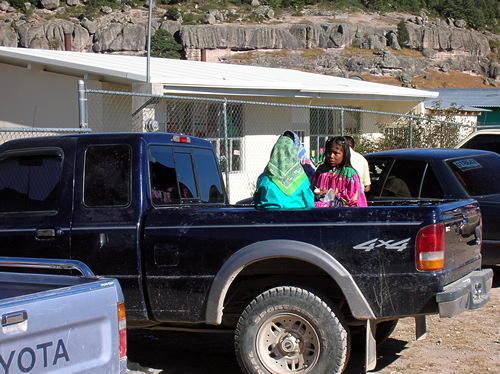 Our last day on the train was the longest. Even though we rolled out of town at 6am, the movement of the train did not make me want to leave our nice, warm bed. Every day on this tour has been jam-packed with activity, including nightly socials (happy hours) and dinners. We're exhausted! But Jim did not like being in the RV while it was moving, so he and Dave got out of bed and went into the truck where the ride was much smoother. Victor and I remained in bed for another three hours.
All the scenery has been spectacular, but the addition of the highest of the 36 bridges (335 feet), the longest bridge (1,687 feet) over Rio Fuerte, and the longest of the 87 tunnels (6,000 feet) made this day exceptional.
We crossed into the state of Sinaloa, and there encountered a very unexpected snafu. Railroad workers stood between us and our destination, Los Mochis, the last stop of the train portion of our trip. We were originally told to expect to pull in to Los Mochis around 6pm; with the delay, we did not arrive until after 9. Today was so tiring, we were glad that no social functions were on tap. We just wanted to go to sleep!
Workers removing the wires and chocks that held our rigs in place throughout the train trip woke us up before 7am. Though we thoroughly enjoyed Copper Canyon, we were glad to finally be back "on land." All 21 rigs disembarked without incident and, whereas we had all stuck like glue to our wagonmaster while we traveled, here in Los Mochis, several of us felt confident enough to head out on our own. Armed with very detailed instructions on how to get to the next RV park, Dave and I successfully led a group of six other rigs to our destination.
That night we went to the La Fuentes hotel for dinner and had THE best shrimp we've tasted in a very long time. They were as big as prawns, wrapped in bacon, then grilled. We ate like kings.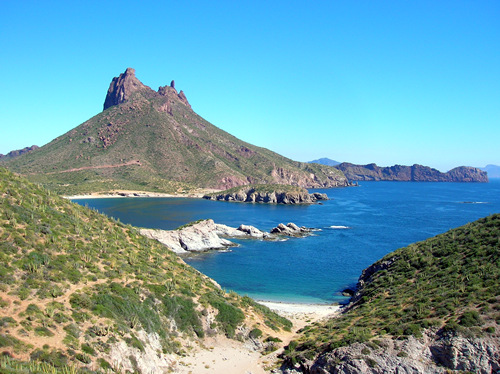 The remainder of our trip found us in Alamos for two nights and then San Carlos for three. Compared to where we HAD been, these could be classified as very uptown, with their plethora of restaurants, shops, and tourist attractions. All kinds of activities were at our disposal: tours of the towns, a fishing trip, a nature tour. As much as we enjoyed the Copper Canyon, it was nice to be able to put roots down, even if they were shallow.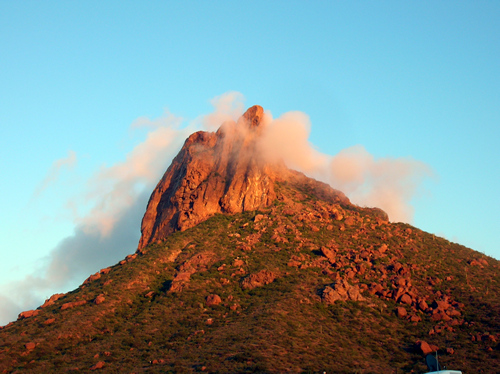 While the rest of our group headed back to Nogales and the good ol' USA yesterday, Dave and I opted to stay in Mexico just a little while longer. We are in Kino Bay, on the Sea of Cortez, about 260 miles from the border. We've gained a lot of confidence in traveling throughout Mexico, as well as a lot of curiously to see what other treasures are here to be explored. The people are warm and friendly, and on this mid-November day, temperatures in the high 70's feel glorious to us. We're thinking we might have happened upon the perfect winter getaway.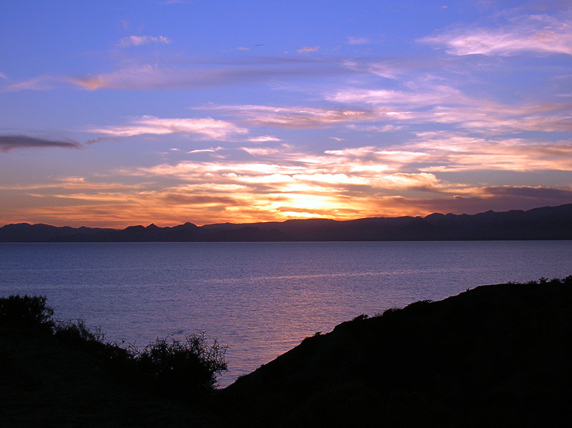 Total miles traveled (Las Cruces to Kino Bay):
By road: 888 miles
By railway: 406 miles
Fuel: 1,724 pesos ($172.40)
Tolls: 740 pesos ($74.00)