Trip: Albuquerque Hot Air Balloon Festival
Week #2: Deming, New Mexico to Albuquerque
10/07-13/2007

Las Cruces was a short 60 mile trip from Deming. We had a few days to kill before we needed to be in Albuquerque, and this is as good a place to stop as any. We like Las Cruces. It's the fastest growing city in New Mexico and the country's 11th fastest growing city. No matter what you might need, you can find it here. We especially enjoy the Farmers' Market--open on Wednesdays and Saturdays, it's a place that has lots of fresh produce and artisans of all kinds. And on this particular trip, I discovered the Olympian Cosmetology School and treated myself to a manicure, pedicure, and hair cut. Since students are doing the work, it takes a bit longer (I was there for three hours. I could have been there longer, but Dave called, wondering when I was going to come home, so I figured it must be time.) I enjoyed every minute of it, and I thought $27.50 for everything was a bargain!
We couldn't wait to get to the Balloon Fiesta, and we were on the road by 7:30am on Thursday. It's a straight shot up I-25 to Albuquerque and the trip took about four hours. We were here with the Escapees RV club, having signed up for this "HOP" (Head-Out Program) months ago. The cost ($300) included a Premium RV site (water and electricity), catered breakfasts, catered dinners, and shuttle service to and from Balloon Fiesta Park (RIGHT across the street.) It was great not having to deal with traffic, of which there was a LOT, as you can probably imagine. When I found out that RV parks in and around town were charging at least $35-50 per night, I was convinced that we had gotten a great deal.
Our friends, Ann and Tom Caywood (who originally turned us on to this event with Escapees) had been here since Day 1 of the Fiesta (it's a 10-day event.) They were part of the "chase crew" for the balloon, "Flight for the Cure," piloted by Dave Clark who lost his younger sister to breast cancer in July, 2003, and his wife, Lois, to lung cancer less than five months later. Previously, the balloon was known as "Neon Nights."
Ann is ultra-organized and generously passes along tips that helps cut down the learning curve for people like me. She was just a little more than excited about being part of the chase crew for "Flight for the Cure," and she easily talked me into going over to the air field with her and Tom at o'dark:thirty the next morning and sign up to be on a crew.
It isn't easy getting up at 4:30am. Thank goodness for coffee pots with timers, because I really DO wake up to the smell of coffee. I thought ahead and laid out my clothes the night before and everything else Ann suggested I bring (a flashlight, water, gardening or leather gloves, cell phone) the night before, so scraping it together was fairly easy. Tom, Ann, and I set out at 5:30 and were at the balloon field before 6am. I filled out the necessary paperwork that would enable me to be on a chase crew, and I was assigned to a pilot from Pennsylvania who had three "specialty balloons." It seemed to me that, out of the 750 balloons registered, the simple, colorful, teardrop-shaped balloons outnumber the specialty ones perhaps 3:1. Specialty balloons are in a class all their own, and there were no two alike.
The balloon I was assigned to was The Shuttle, 10 stories high, and 40% larger than the real shuttle. I was SO glad I had gloves! The temperature was in the low 50's and the sun had not yet risen, so it was pretty cold. A heavy-duty wagon provides transportation for the balloon, and it is carefully laid out on the ground. It has to be completely unfolded, and all of the openings in the balloons (forming the various shapes) need to be neatly Velcroed closed. Once that's done, a large, powerful fan is positioned at the mouth of the balloon, and the inflation process begins. Our pilot was right when he said that crewing for a hot air balloon is a lot like fishing: long periods of boredom punctuated with short periods of pure drama. I walked around a lot, doing whatever needed to be done: straightening out the balloon, keeping people from stepping or sitting on the balloon, helping to hold the lines.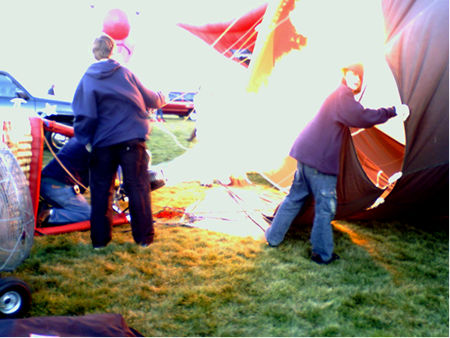 To me, an admitted pyromaniac, the pyrotechnics are one of the most exciting parts of the process. The heated air that lifts the balloon comes from a hydrocarbon gas burner attached above the basket. Being up-close-and-personal to the balloons was an incredible learning experience. I thoroughly enjoyed it and it definitely made getting up early worthwhile!
Working towards a common goal alongside complete strangers was a different sort of experience. It's really amazing what we humans can do when we put our minds to something.
Once the Shuttle lifted off, we made arrangements to meet it at its landing site, wherever that might be. I found myself in a van with five people I didn't know, which I thought was funny. We talked as though we were old friends.
Seeing the Fiesta up close and personal and then observing it from miles away provided a completely different take, as evidenced by our photographs, of which we took hundreds.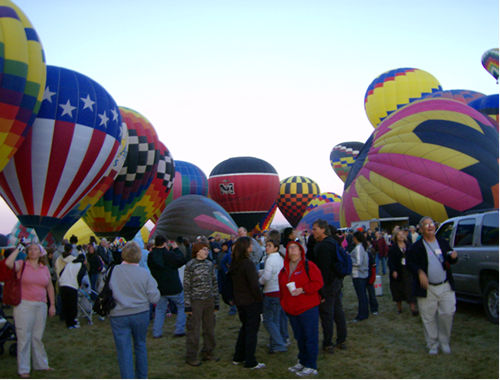 One key thing to remember is that 99% of the activity takes place before sunrise! By the time we arrived on the field (before 6am) most of the food and merchandise booths on the midway were in full swing. As you might expect, the people-watching was great! Everyone who knew we were going to the Balloon Fiesta remarked, "I've always wanted to do that." Next year it will be held from October 5-14. It is an experience you will never forget!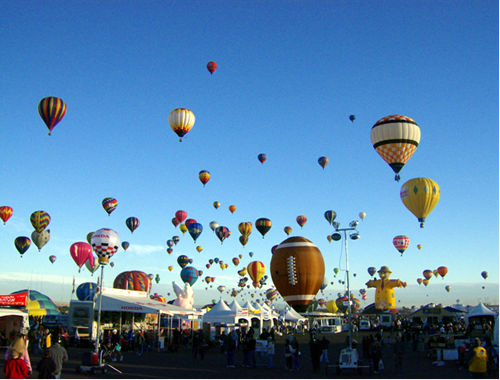 Miles driven this week: 327
Trip so far: 1,946 miles
Other personal travel facts you might (or might not) be interested in:
Total spent on camping so far: $166* (14 nights)
* Add $150 for what we probably would have spent on camping in Albuquerque if we hadn't been with a group
MPG: 9-12 miles per gallon