Westward-Ho!
Week #3: On to the Grand Canyon!
10/14-18/2007

The International Balloon Fiesta in Albuquerque was the biggest RV-event we have ever experienced (in the Escapees RV group alone, there were 300 rigs), and we were very pleasantly surprised at how little departing traffic there was on the last day of the event. We figured there would be a scramble of those anxious to get on the road and it would be a matter of "hurry up and wait." As it turned out, we were well on our way west on Interstate 40 by 9am on Sunday. After an overnight stop at a so-so RV park on Sunday, we arrived in Page Springs, Arizona by mid-day on Monday.
Page Springs is in what is known as the Verde Valley, through which winds the Verde River and Oak Creek, making the area extremely lush in spite of the fact that this is the high desert. Forests of juniper trees, ponderosa pines and pinon pines, and prickly pear cacti are abundant. Driving to and through the hills (often, 2-lane) is a fun experience. The scenery is fantastic.
One day we took a ride to Jerome, a booming copper and silver mine town less than one square mile wide that sprung up overnight in the late 1800's. In its hey-day, its population soared to from 2,500 to 15,000 in a little less than 10 years. Jerome State Historic Park is actually the 8,700 square foot home that mine-owner James Stuart Douglas designed and built for his family, which also served as a hotel for mining officials and investors. Built on the TOP of Cleopatra Mountain in 1916 at a cost of $150,000, it was way ahead of its time in terms of "conveniences," such as electricity throughout, concrete floors, and a central vacuum. Its walls were built of adobe bricks, made right on site. It was "over-the-top" in so many ways: its wine cellar, billiards room, and the marble shower with steam heat.
When copper and silver ruled (early 1990's), life was good. Jerome, at one time, was even the State Capitol. However, mining ceased in the 1950's, Jerome became a ghost town, literally overnight. The Douglas mansion was put up for sale in the early 1960's. Its asking price was (ONLY) $10,000.00 (!!!). Two years on the market with no buyer in site, the Douglas Family donated the building to Arizona State Parks in 1962.
In 2000, Jerome's population was less than 350. We were told that "hippies" moved here in the 1970's and, most recently, artists affected by Hurricane Katrina have moved here as well. Today it is a bustling little town (emphasis on 'little') and is Arizona's Art Destination, with more than 30 galleries and studios (most galleries per square mile.) At an elevation of 5,080 feet, the views from Jerome are awe-inspiring, fueling much of the artists' creative juices, no doubt.
View of downtown Jerome: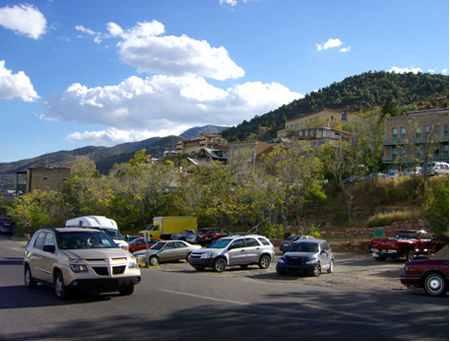 And the view from downtown Jerome:

It's been a long time since we've seen something like this, so I guess what they said about the hippies is true. Can you find the owner's alma mater? (Upper right corner)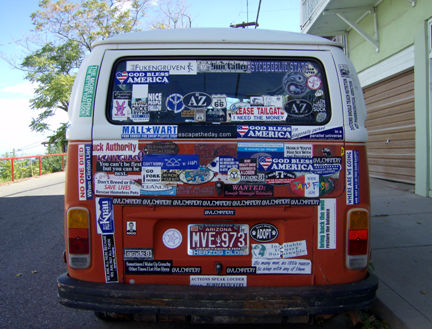 Our intention was to spend a day exploring the towns of Jerome AND Cottonwood, but, as it turned out, Jerome was a destination in and of itself. Cottonwood will have to wait until next year.
Considering the time of year and the fact that we were so close, we thought that Grand Canyon should definitely be on the "must do" list. The crowds of summer are gone and the temperatures are cool. Though the web site for the canyon was a bit challenging to navigate (http://www.grand.canyon.national-park.com/) we managed to reserve a space right inside the park, which turned out to be a highly coveted prize*, as evidenced by the FULL sign when we approached the gate. Trailer Village can handle big-rigs, are all pull-through spaces with full hook-ups, and at $28/night, a bargain, especially since its one of the (free) shuttle stops along the South Rim. Less than a mile away is the Canyon's post office, grocery store, and a gift shop. Next time, we'll stay longer! (* Compared to $150/night at any of the hotels within the park.)
I don't even know how or where to begin to describe The Grand Canyon, because mere words cannot possibly describe how spectacular it truly is. Looking way down deep into the Canyon made me realize how truly small we are in this entire universe. I'd be staring down, and Dave would suddenly say things like, "There's the Colorado River," (it was hardly noticeable in the distance), or "there's the hiking trail," (and I had to strain to see it.) This thing is ENORMOUS.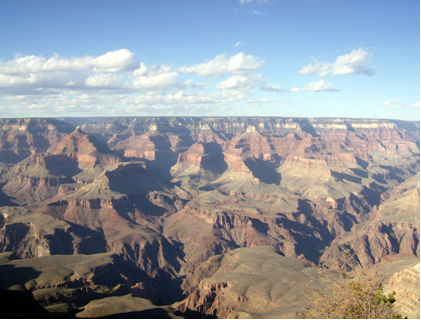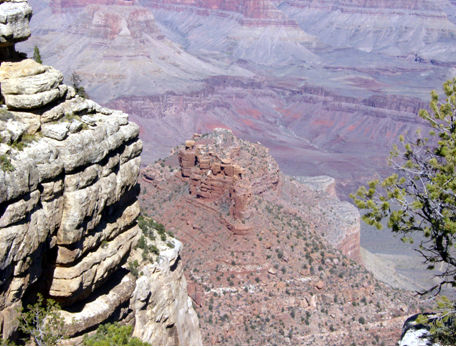 Depending upon the time of day, the Canyon looks different. I got up early one morning to try and catch the sun rise) and was struck by the absolute quietness of the park, and how the night sky was FILLED with stars. The free shuttles begin rolling at 5:30am, so I was at the rim in plenty of time. While most of the other tourists who also woke up early to catch the spectacle stood on the overlook at Mather Point, I walked about half a mile down the paved trail. I couldn't believe how different the Canyon looked at daybreak!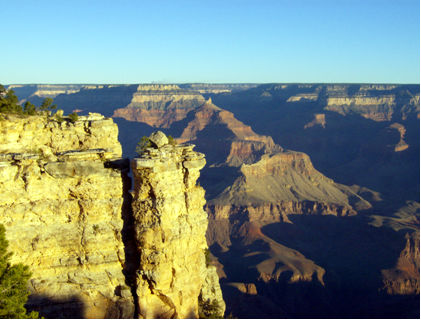 We met a couple at one of the campgrounds who planned on "doing the Canyon" as a day trip. Truly, I cannot imagine HOW, or even why, for that matter, anyone would want to rush the Grand Canyon. As it was, we spent 1 ½ full days and could have stayed longer. Now that we've been there/done that, we'll better know how to plan our next trip. We'll look into taking a helicopter ride (and, of course, try to get our hands on a discount coupon), and possibly into taking a mule trip down INTO the canyon and staying overnight at the lodge there. One of the shuttle routes takes you right past the barn that houses the mules, and I was impressed at just how big and sturdy they are! I read that mules are very steady on their feet (even along the narrow edges of the canyon) and that the mule rides boast a 100% safety record. That's good enough for me!

Miles driven this week: 689
Trip so far: 2,645 miles
Other personal travel facts you might (or might not) be interested in:
Spent on camping this week: $69.50
Total spent on camping so far: $235.50* (21 nights)
* Add $150 for what we probably would have spent on camping in Albuquerque if we hadn't been with a group
MPG: 9-12 miles per gallon
The price of diesel here in Arizona has ranged from $3.02-$3.29. We get an 8 cents/gallon discount because we are "non-commercial." However, you have to go inside the C-store or gas station and ask for it. It's worth it. It all adds up.