Dear Friends and Family,
If anyone can tell me where time goes when it flies by, I sure would appreciate it! The past couple of months really got away from us. We finished our stint as volunteer camp hosts at the National Wildlife Refuge in Southern Illinois on Labor Day, Sept. 1st, and immediately headed east a hundred miles or so and set up shop at the RV park in Clarksville, Tennessee for the month.
Our daughter, Kate, gave birth to Maeby (pronounced 'maybe') Regina on 9/8, and thankfully, Daddy Steve was able to come home on leave for about three weeks.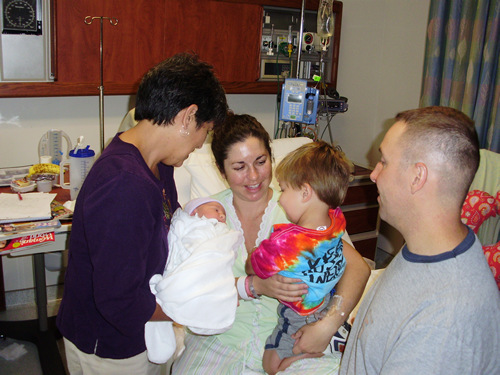 We babysat Bobby (2½ ) a lot and tried to help out as much as was needed. On more than one occasion we voiced our gratitude for being able to be where we were needed. We are blessed.
After one month and two days, we got back on the road again and now we are at the family place in Arkansas. We'll be here for 2-3 weeks, gearing up for our next project, which is buying a house in Hopkinsville, Kentucky, the next street down from Kate's. We didn't plan on buying a house there, but the opportunity presented itself, and we couldn't resist. It's a project-house, but we've done plenty of project houses before. It will give us something to do when we visit the kids, which will probably be a lot, and when all is said and done, it will be restored to its former self….or better!
Two years ago, after living in the house for 40 years, its owner finally went into a nursing home at the ripe old age of 103. At 105, she is still going strong and, better yet, still has her mind. We have been encouraged to stop by and visit her after closing takes place. Bet she's got some great stories and information we can use. We've heard that she is thrilled that a couple with grandchildren down the street will be living in her house.
Tentatively, we plan on being in Kentucky for the Thanksgiving and Christmas holidays. Steve said he'd be home (from Afghanistan) no later than 1/1/2009 (thank God.) We're still plugging away at our CDL (commercial drivers license) home-study course, and will go to Jacksonville, FL in February for the 3-week residency program. We have yet to figure out exactly how having our CDLs will play into the future, but we're confident that they will come in handy somewhere down the line. And since we'll already be there, we'll spend the month of March visiting friends and family in Florida and also taking in as many Cardinal spring training games as we can!
And so, as usual, we have our share of projects to keep us busy. Please let us hear from you; we're anxious to know what you're doing as well!
Love,
Maria & Dave